The Women's Resource Center is operated by a dedicated staff and team of student volunteers committed to furthering the center's mission and serving the campus community. Stop by 260 Costo Hall to meet us or call us at (951) 827-3337 and discover your place at the WRC. 
---
Staff Bios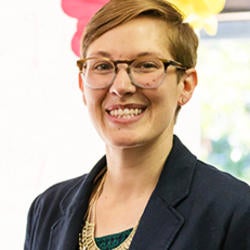 Denise Davis
WRC Director  
Denise Davis earned her Master's degree in social and cultural psychology at the London School of Economics while there as a Rotary International Scholar. As an undergraduate, Denise was active in creating her own degree — Social Psychology of Gender and Multiculturalism for Social Change — through the Johnston Center for Integrative Studies at the University of Redlands. In addition to working in multiple student affairs roles, Denise taught women, gender and sexuality studies courses at the University of Redlands. She is passionate about issues pertaining to student engagement, intersectionality, feminism, the LGBTQ community, gender representation in media, women's political participation and social justice advocacy.
---
Nathaly Martinez
Program Coordinator  
A UCR alumnus, Nathaly Martinez graduated with a Bachelor's degree in sociology and a minor in gender and sexuality in June 2016. As a student, Nathaly worked for the WRC for three years, taking on different leadership roles as the coordinator of the Campus Safety Escort Service and as a student representative on the President's Task Force on Preventing and Responding to Sexual Violence and Sexual Assault, which was created by University of California President Janet Napolitano. She joined the Women's Resource Center staff shortly after earning her degree and is a member of NASPA.
---